Course Map, Descriptions, & Rules
Arena and Warm-Up area: Here we have an outdoor riding arena where you are welcome to warm up your horse so he'll be ready and safe for your scheduled ride time. There is also a 60′ roundpen for your use.
All visitors are required to warm up their horses either in the round pen or outdoor arena. Working the energy off a horse keeps you safe, and gives you a better chance of success with the obstacles.
Adjacent to the arena is a variety of 25+ basic trail obstacles for practice. Give all of these at least a once-over. They are a useful preview of what's to come at the other courses.
North Gully: This natural depression offers a pick-your-way rock path, log jam, ditch crossing, and a vine-covered arch to ride under. 
Pond area: On all sides of the water are obstacles. The pine forest has a variety of obstacles scattered between the trees. There is a 50′ bridge over a gully as well as five other unique bridges, a water crossing, logs & ditches to be negotiated, fake animals, trails, and trees to work around.
Oh, and there's a few weird mannequins too …
Hawk Woods: This area offers a short, shady, and relaxing loop trail. In the center of the woods, look up to see the red-tailed hawk's giant nest. In the fall, this area becomes "The Halloween Trail."
Big Woods Area: This setting is in an oak forest and you will stay very busy with this collection of trail "play toys." There is an assortment of bridges and walk-overs, logs, three water obstacles (one is a mister), jumps, hills, rocks, a knee-knocker trail, and many more. The sunlight filters through the trees making it a beautiful and cool place to work your horse.
The Forest Trails: This is a great opportunity to relax and unwind. You'll have several meandering options to explore; you can make it a quick trip of twenty minutes or wander all the loops in about an hour. There are a few ditch crossings and bridges. You may begin at the open gate into the Christmas trees and end up in our wetland area. A map is provided.
Required
Riding boots with heels
Safety-certified helmets for youths 17 and under
Properly-fitted and safe tack
Horses must be ridden in a bridle outfitted with a hackamore, bosal, or a bit.

NO

bitless bridles.
Riding with a halter, riding double, or bareback riding is NOT allowed
On The Course
White flags mark trails and safe gully crossings
Orange flags: DO NOT ENTER
If it is a wire fence, assume it is HOT
Footing may be slippery. Watch for hidden mice or gopher holes. Ride with caution!
No loping or racing
Stay 10′ from pond edge
Ride SAFE & SMART
Miscellaneous
Carry your cell phone. If you have questions/problems, call Rebecca @ 503-550-4044

No smoking

outdoors – extreme fire danger
No littering
No dogs for day riders. Campers may bring their dog, but must keep it ONLY at campsite/ no barking dogs allowed.
No wet mares (with foals), Stallions allowed ONLY with prior permission
Horses exhibiting out-of-control behavior are not allowed on courses
Clean up after your horse in the parking area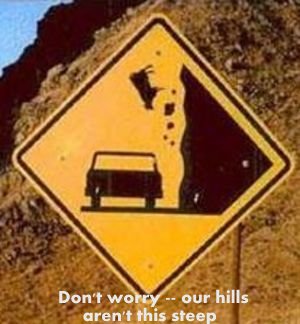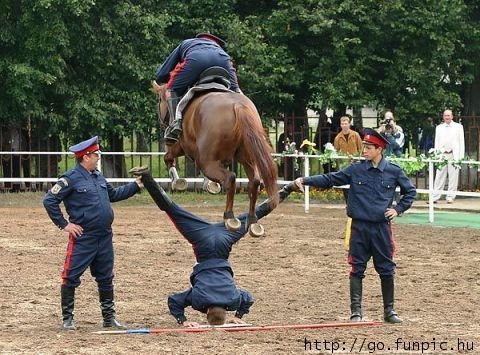 Our hills don't have flying cows and there aren't any  jumping obstacles like this one.
It's just too hard to find volunteers.
In-Hand Obstacle Work
Yes, to the many who have asked about leading their horses  in hand through the courses. However, ponying (leading) from another horse is not allowed here as the obstacles are designed for single use only.
In-hand provides an excellent opportunity to take obstacle training a little slower and calmer.
Just be aware we have hills, and that our courses are spread out. So, wear horse-safe, comfortable footwear, and prepare your walking muscles!
And…let's have fun out there!