Many thanks to these special people who help me with Perrydale Trails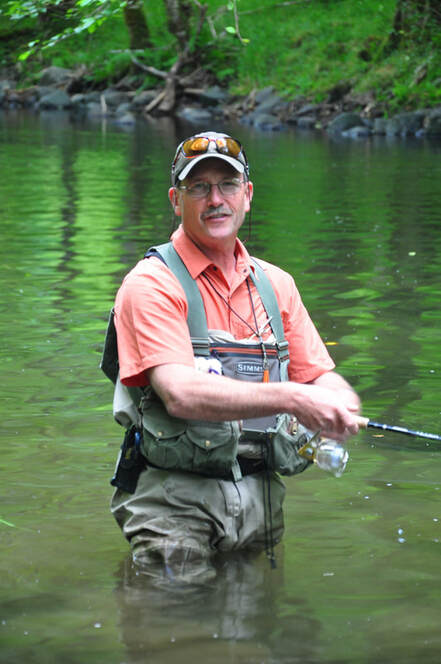 A long long time ago, this very cute boy pulled my ponytail. Our first date was a trail ride, and 48 years of marriage later, we are still forging trails together. As life marches on, some are familiar favorites, others are brand new adventures. Mike is my "rock." Always good-humored, he keeps his family happy and comfortable, is a hard worker and is a man who is strong in his love. I feel so fortunate to be married to Mike.
When I first came up with the idea for Perrydale Trails, of course Mike was the first person I discussed it with. He asked a lot of questions, but basically he said, "Just do it, Beck! I'll build whatever you need." And true enough, several bridges (including a 50′ one across a gully) have been made by my handy husband. He's moved big logs, excavated ditches, and made possible all of my ideas.
Mike's total encouragement and support was instrumental in making Perrydale Trails happen. He doesn't ride much anymore; he fishes and also stays busy in his metal fabrication shop. Mike still builds for me, but I have to work harder as he has become more wily to trap.
​
​"Hey, Mike, I have another idea …."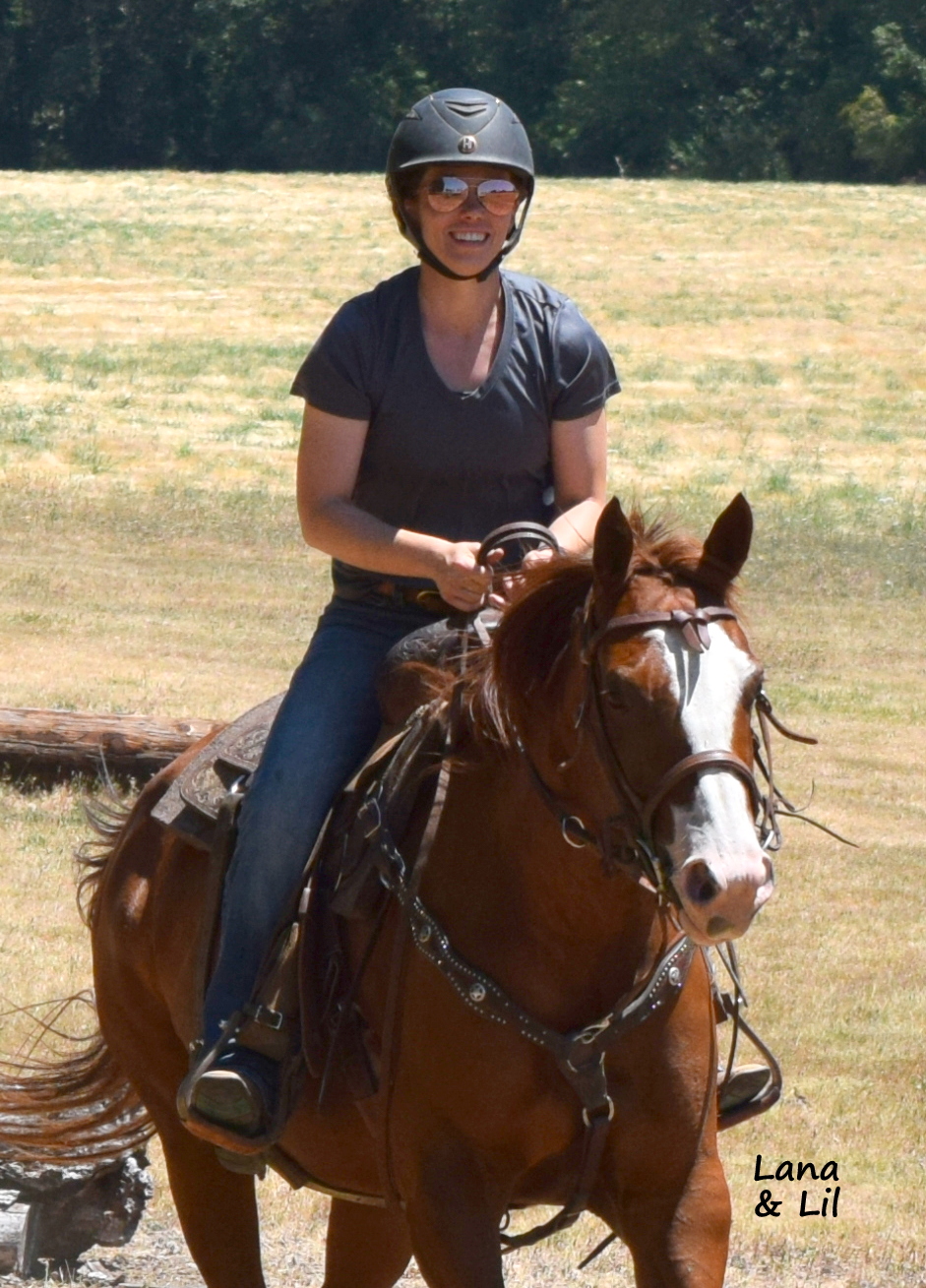 Lana Herron Filley is my baby girl. Ok, now she's an adult, but proud mothers have license to say whatever. Lana is a very capable and level-headed person, mechanically-minded — all these traits came from Dad. But I like to think she got her horse sense from her ol' Ma. Lana was in 4-H from age 9 to 18 and won many county and state championships. She also took home the OHSET showmanship state champion award. She's continued her winning ways in the horse show ring as an adult, with trail being her top winning class. Lana is married to a hard-working young man, Bo, and they make a loving and complementary couple. And, they've made us proud grandparents!
Lana always helps with events and is an assistant instructor when we give trail clinics here. With her business and HR experience, she advises me on marketing strategies to promote Perrydale Trails. I depend on her expertise and common sense.
And I love that O'Ma and her baby girl ride alike!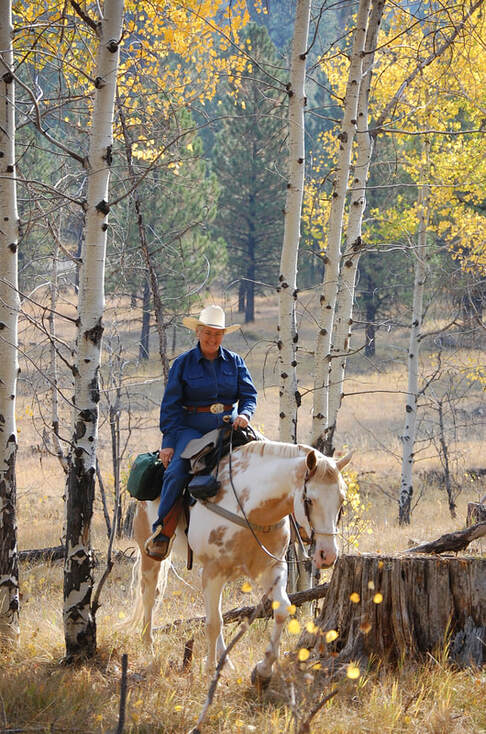 I owe my successful horse career to my longtime pal, Reetsie Fuller. Reetsie took me under her wing when I was 15 and taught me the fundamentals of horse training and showing. I was a shy horse-crazy-from-the-get-go girl. We'd always had horses but we lacked the finesse of being true horsemen.  Through Reetsie's kindness, patience and knowledge, I credit her for giving me the right start for success in the horse world.
Reetsie was the Pied Piper of the horse kids in Newberg, Oregon. Everyone wanted to be in her 4-H club, There were 60 members! We adored her and she was a mentor to countless teen-agers.
Reetsie and I did gaming and performance events all over northwest Oregon those first few years of friendship. Later, she was the one who taught me how much fun trail events could be … and the rewards that come from the unique bond that is created.
Many years ago, I did a bit of payback to Reetsie when I introduced her to natural trail competitions. She had always competed successfully in arena events, but this time we were out ​in the real elements, showing off our good trail horses. We campaigned all over Oregon, and once again we were the dynamic duo, bringing home many blue ribbons and precious memories.
Not only is Reetsie an accomplished horsewoman, she is also a talented artist. She designed my logo for Perrydale Trails.
​Pals forever and ever ….
You see, I had this idea of making our farm into a safe and fun place for people to practice their horses. Figuring out the obstacles wasn't a problem. BUT … how much help was I going to need? 
It turned out to be a LOT those first years. Fortunately, my friends and family jumped in feet first, and I didn't even have to beg them … too much! Truly, I am grateful that so many believed in my idea. They gave me confidence Perrydale Trails was going to be amazing, and they made it possible for it to really happen.
I'd like to highlight three very special gals who have spent many hours horseback here. Throughout our years, Laycee, Cindy, and Carol have helped greet guests, give tours to first time visitors, calm nervous riders, and organize events. 
Thank you all for making Perrydale Trails a success!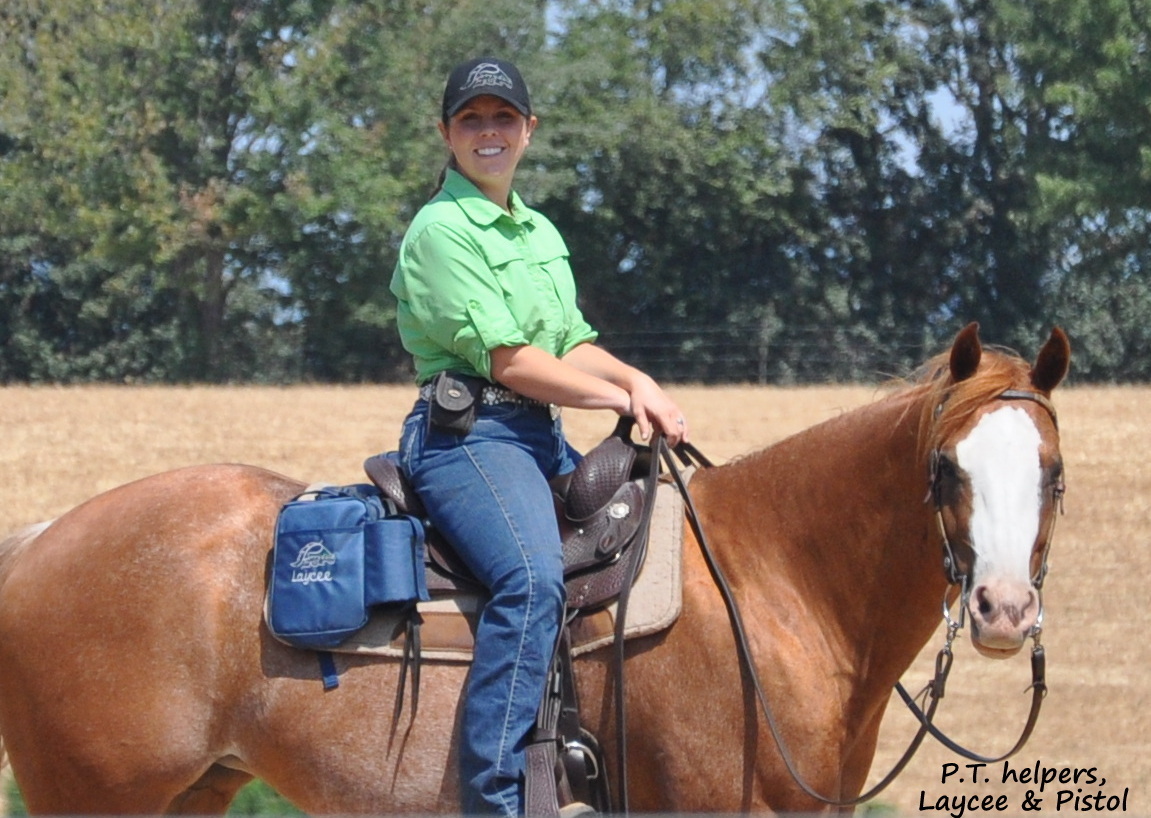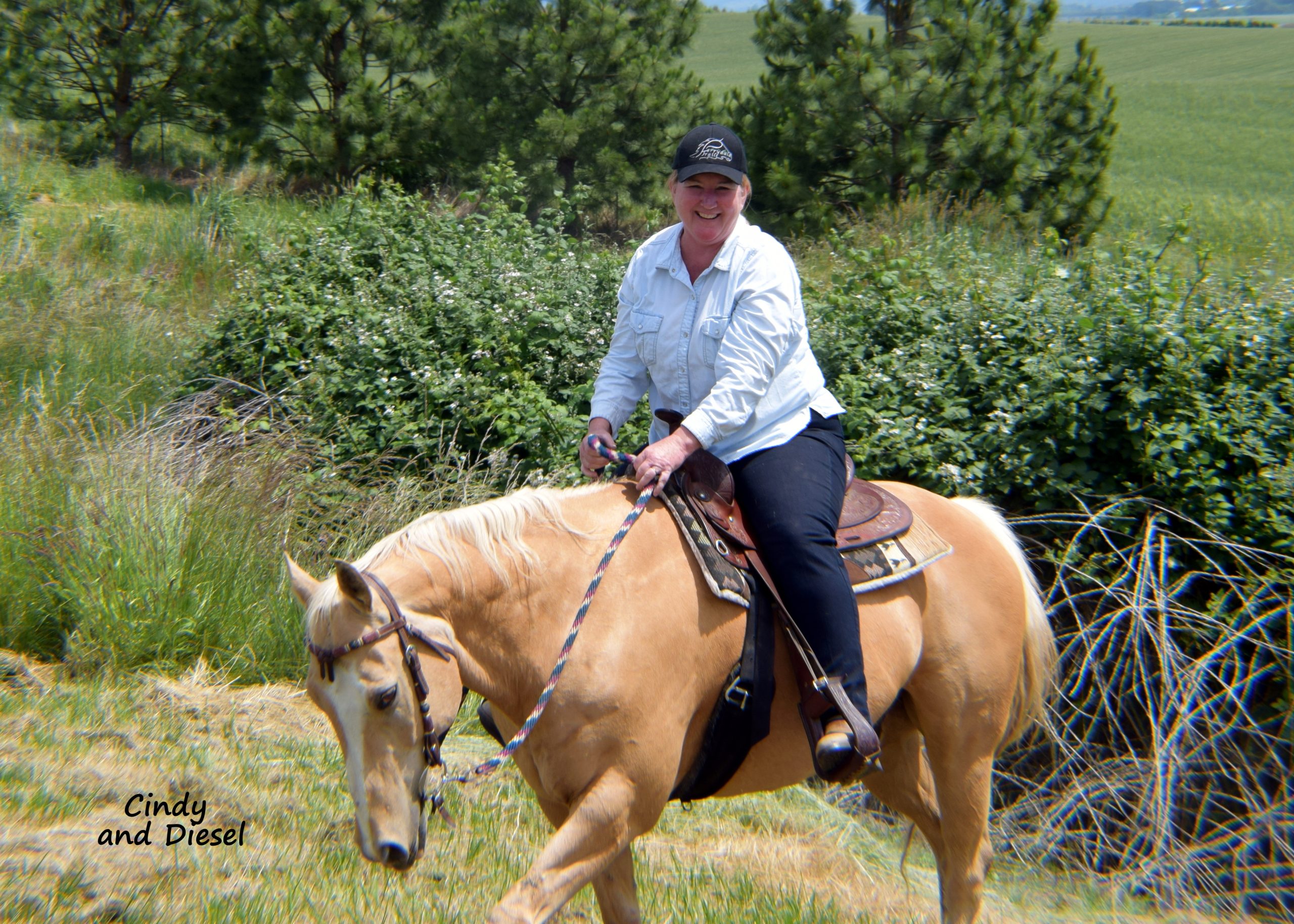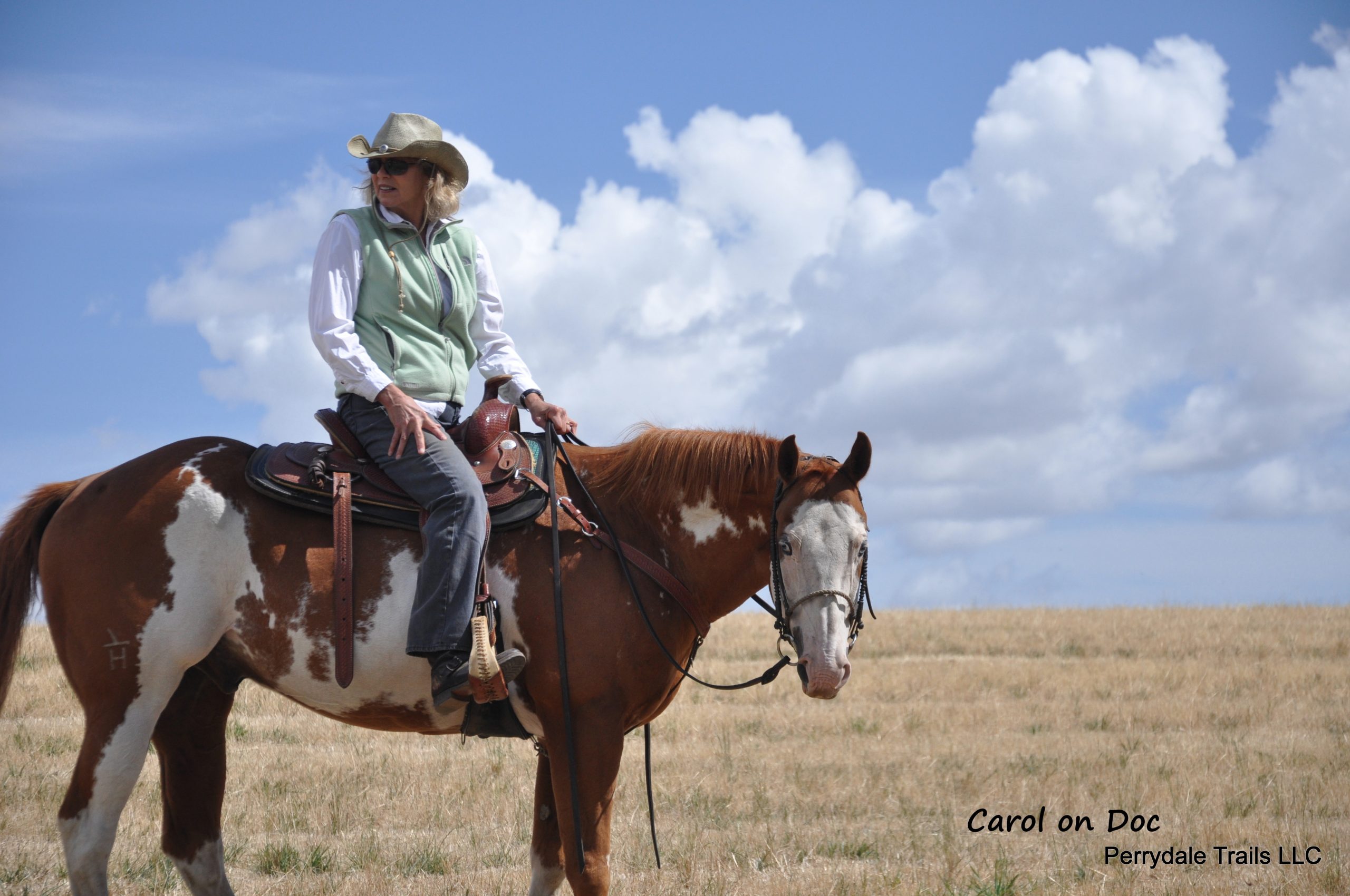 Laycee Grauer is my Girl Friday. Bright, sensible, positive, and armed with a dazzling smile, I'd like to claim Laycee as an adopted daughter. We started our friendship when she took lessons from me in early Perrydale Trails days. Laycee has the diligence to practice and the talent to succeed. As a result, her mare, Pistol, became an unflappable, point and go, super trail horse.
Laycee's skillful organizing, friendliness, and efficiency has helped our events run smoothly. She also helps as an instructor at our trail clinics. There's just nothing this girl can't handle!
Her 20 year Army experience has prepared her well. "Improvise, adapt, and overcome" perfectly describes my friend Cindy Pippin. In our early days with Perrydale Trails, Cindy's skills were so helpful! It was extremely fortunate for me that Cindy came into my life at this time.  She's led countless new visitor tours, assisted at events, blazed trails, helped maintain them, and farm-sat.
But mostly what I appreciate about Cindy is no matter what, she is always available to help. I can always count on her, and that is a very good feeling.
Also known as Miss Sunshine, Carol Grimwood has been a familiar face to Perrydale Trails since 2015. This lovely lady started here as a student. She'd been a dressage rider, and had very good basics. But  horseless quite awhile and recovering from major back surgery, she wanted to try trail riding. Well, she's one of us now! Carol loves the challenges and rewards, but most of all loves our Doc, who has returned her riding confidence.
Carol & Doc often help with the new visitor tours and being here as an extra hand for large groups. Her ready smile and kind nature, along with her nurse skills, make her a perfect fit as a Perrydale Trails helper.