Perrydale Trails was selected to be the site of the Oregon Equestrian Trails annual meeting! It usually attracts 80-100 enthusiastic members.
In 2020, OET celebrated their 50th anniversary at their annual Roundup. Last year and this winter, Covid prevented the usual indoor meeting. The OET Board asked if they could hold their Roundup here, in an outdoor venue. AND with a bit of icing to the cake: open it for campers and riders to enjoy our Perrydale Trails. YES!
This is a perfect opportunity for all of you who use our magnificent horse trail system to support OET. This organization climbs tall mountains for us trailriders.
Perrydale Trails is donating the meeting accommodations to OET. However, as a small business, we are charging for campers and riders.
Meeting registrations must be received by 6/6/22 — here is the link: https://www.oregonequestriantrails.org/shop/
And what a deal! For only $35, you'll get to meet and greet fellow trail enthusiasts, learn about OET's recent accomplishments and goals, listen to speakers, participate in raffles, PLUS enjoy a catered lunch and dinner!
Non-members pay an additional $30, so this is a gentle hint to join and support OET.
Information is listed below for those who would like to camp here and/or make this a mini-vacation with their horses. These would be additional fees to the meeting.
More meeting information is forthcoming here, on the OET website, and Facebook.
Come to the meeting, but wait,
THERE'S MORE!
Perrydale Trails offers a unique venue for this year's OET annual meeting. Arrive earlier, stay a day or two extra to enjoy our beautiful and peaceful area. Besides our place, there are many nearby wineries to visit, and riding on the beach at Pacific City is only about an hour away.
Dry camping is available for our faraway guests. Water and clean restrooms are easy access.
Now, about Perrydale Trails: Picture us as a big toyland of trail obstacles for horses! Here is a great opportunity to test, train, and tune-up for summer trail rides. Practically every scenario is here with our 200+ obstacles. Also, enjoy an extensive network of trails in one of our areas.
 Camping/Riding Reservations Are Required
$40/horse/all day ride
$10/camper unit/night dry camping
$10/horse/night
Reserve by check or Paypal
** Be aware the June 18 OET meeting starts at 10a, and continue through an evening meal. Those who wish to ride during their stay here should plan accordingly. Any questions, please contact Rebecca, ride@perrydaletrails.com or call 503 843 2930.  
To reserve your spot:
Campers – must prepay for at least one night ($10/one camper unit).
Riders – if you're bringing your horse to enjoy our Perrydale Trails, you'll need to reserve a minimum one day stall ($10), one night camp ($10), one ride day ($40).
Additional ride days, camping and/or stall nights may be purchased on site by cash or check.
Horse accommodations: We have pens available; first come, first served. Sorry, no highlining or overnight tying to trailers.
Overnight guests can enjoy gathering around our big campfire pit in the evening, watching our big sky fill with stars and listening to the peaceful quiet. Our pond is a relaxing spot to be also, with its two docks. 
*** NO HORSE RENTALS ***
Riding the Trail Courses
All riders receive a map of our courses.  If you'd like a personal tour, we're happy to show you what we offer. Many OET members are frequent visitors at Perrydale Trails, and can also help guide the way.
Want to be in the pictures?  Would you enjoy a picture of you and your horse tackling a tough obstacle? I try to photograph every rider. The pictures are emailed to you, no charge. The best ones will be used for publication. You may be famous!
With our set-up, there's no rush to accomplish problem obstacle challenges. You have all day to practice your horse at Perrydale Trails.
Know our rules before you come!
This ensures your safety as well as ours.
HERE'S HOW TO SCHEDULE:
Campsites and rider numbers are limited. Reserve early!
Reservation fees are non-refundable, but may be applied towards an alternate ride date in 2022. However, if inclement weather prevents riding and overnight camping with your horse, your fees will be refunded. That decision will be determined by Rebecca Herron.
Pay by check: Make payable to Perrydale Trails, and mail to Perrydale Trails, 15900 W. Perrydale Rd., Sheridan, OR 97378. Include camper and/or rider's name, date of arrival, and email address to confirm your reservation.
Use Paypal Form Below: Include name of camper and/or rider, and date of arrival.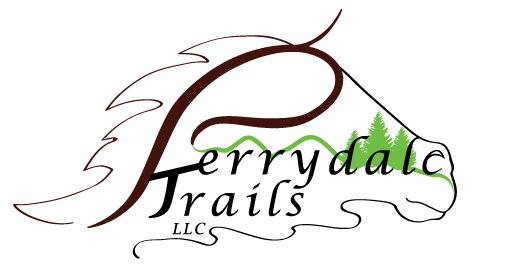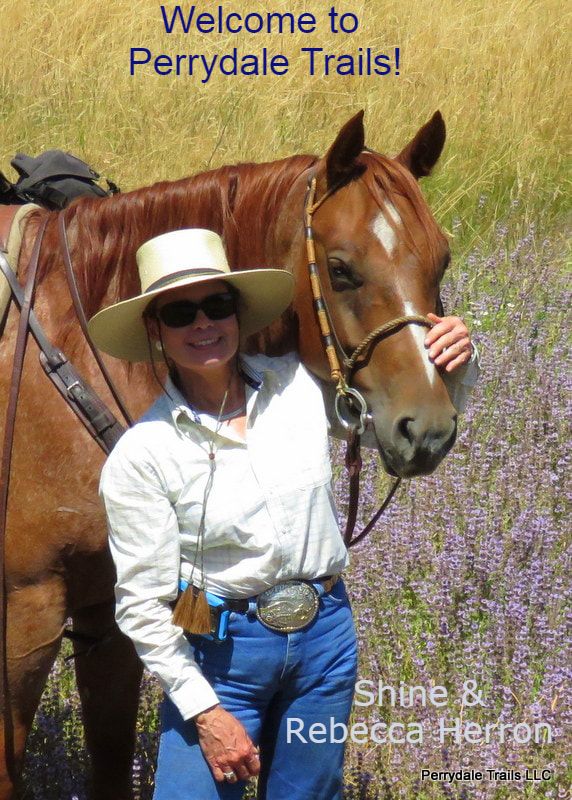 Why come to Perrydale Trails?
Well, in a REALLY big nutshell:
Our course obstacles range over 80 acres on gently rolling hills surrounded by miles of farmland and mountains on all horizons
Each of the seven courses is unique in terrain, obstacles, and trails with a five minute riding time between the areas
200 obstacles and trail scenarios! Practice here to be prepared later
From basic to challenging skill levels, we're set up for your success
Ride on your own or take a lesson
Conquer problem obstacles without worrying about a time limit
Enjoy a million dollar view as your ride through Perrydale Trails, as well as a welcome sense of peacefulness
We're out of the way, but not too far away